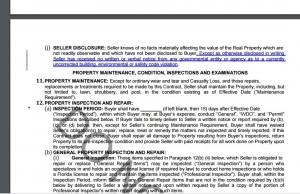 The new Florida FAR/BAR contract released on April 4, 2017 has made some noteworthy improvements benefiting both buyers and sellers. You can view red-lined changes.
Here are a few of the more substantive changes and takeaways:
Loan commitment is now called "loan approval" throughout the contract. Banks rarely issue loan commitments and instead seem to prefer to use the  "conditional loan approval" language on the forms. Sort of "engaged" to the deal versus being "married, we can only speculate.
Buyers list of tasks for their loan approval process are clearly defined.
The loan approval timelines and processes have been further clarified as well as the trigger for the refund of the escrow deposit.
Closing agent is now authorized to release preliminary and final  Closing Disclosures to the seller and listing agent
Clarifies what a municipal lien search is and that those items searched will be an exception to the title policy unless the municipal lien search is ordered by the buyer
Seller must provide buyer any information or plans they have about open permits or improvements on the property
Sellers is required to provide proof of closure of open permits
The two hottest and most buyer beneficial revisions concern code violations and open permits. Here they are  in italic below:
SELLER DISCLOSURE: Seller knows of no facts materially affecting the value of the Real Property which are not readily observable and which have not been disclosed to Buyer. Except as otherwise disclosed in writing Seller has received no written or verbal notice from any governmental entity or agency as to a currently uncorrected building, environmental or safety code violation.
Permit Inspection: Buyer may have an inspection and examination of records and documents made to determine whether there exist any open or expired building permits or unpermitted improvements to the Property ("Permit Inspection"). Buyer shall, within the Inspection Period, deliver written notice to Seller of the existence of any open or expired building permits or unpermitted improvements to the Property. If Buyer's inspection of the Property identifies permits which have not been properly closed or improvements which were not permitted, then Seller shall promptly deliver to Buyer all plans, written documentation or other information in Seller's possession, knowledge, or control relating to improvements to the Property which are the subject of such open permits or unpermitted improvements. 
According to Brenda Arboleda, President of Reliable Lien Search ," I have read that the revisions related to permits were made because open permits are not in fact a "lienable" item under Ch. 159.  I always struggle with this interpretation, personally, because I have seen violations and fines that result in liens from permits that go expired…it is really dependent on the city ordinances that allow them to convert expired permits into violations.  Just thought I'd share that in case any client of yours comments on it."
The revised FAR/BAR contract 4/17 has made some excellent clarifications and better defined some gray areas in the practice of real estate especially in regard to the troublemaker open permits and code violations. As always, time is of the essence for inspections ! 
Please contact us at 305-271-0100 or info@theclosingcompany.net for more information.
Disclaimer: The Closing Company, Inc. is not a law firm and is not providing legal or tax advice in this post.  For legal advice, please consult with a licensed Attorney. For tax advice, consult with a Certified Public Accountant. Hiring an attorney is an important decision which should not be based solely on advertising. The information you obtain at this site is not, nor is it intended to be, legal advice. You should consult an attorney for advice regarding your individual situation. We invite you to contact us and welcome your calls, letters and electronic mail. Contacting us does not create an attorney-client relationship. Please do not send any confidential information to us until such time as an attorney-client relationship has been established.