They can't stay married but work just fine together
BY CINDY KRISCHER GOODMAN
cgoodman@herald.com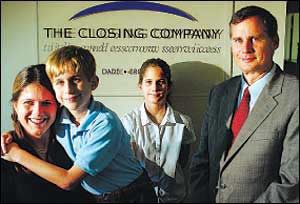 Yvette Betancourt and Martyn Verster divorced four years ago after 13 years of marriage. This summer they started a small business handling title transactions for real-estate closings.
Though they were not compatible in marriage, they say their strengths make them well suited to run a business together.
Betancourt, 36, excels at marketing and luring new customers. Verster, 49, is an attorney with a talent for resolving problems. The two have a common goal: to turn enough profit to support themselves and their two children.
"We both want what is in the best interest of the business and the kids," Betancourt says.
Their story points to a way around the risk that haunts millions of family firms where husband and wife play crucial roles. It shows that a couple in business together can find balance between family and work despite a marital split.
"There are people who are divorced who are owning businesses together and doing it well," says Patricia Cole, an associate professor of family business at the Graduate School of Humanities and Social Sciences at Nova Southeastern University in Fort Lauderdale. "Some people are better business partners than couple partners."
Of the 3.6 million married couples who run businesses, the number that continue to operate after a divorce has increased in the last 10 years, Cole says.
In marriages, couples typically argue over finances or kids. This couple says those are key areas they were in agreement. It was erosion of their romantic relationship that undid their marriage, they say.
"It is always difficult to go through a divorce. It wasn't always easy for us but we worked through the tension so it would only minimally affect the kids. It has gotten easier and easier for us," Betancourt says.
Following their divorce, Betancourt had formed a title firm with some other partners. Verster had worked as a divorce attorney and handled some of his family's real-estate investments. The duo figured with some ground rules, a joint financial investment and separate areas of responsibility they could succeed at this new business as they had a previous one they founded, built, and sold four years ago called The Kidmover.
Though small, The Closing Company in Southwest Miami-Dade already has more than 40 steady clients, including mortgage brokers, banks and real estate investors. Plans are underway to open a second office in Doral.
To get their upstart title business off the ground, they tossed their joint custody arrangement aside and make adjustments based on who needs to work late, who needs some alone time and who needs some time with the kids.
The two strategically have located their office next to their son's school and two blocks from their daughter's middle school. They each also live within a mile from the office.
The ex-spouses alternate who gets into the office early each week to review files and give their staff of six daily direction. Because Verster handles the legal aspects of closings, he must be the one who works in the evenings when most transactions occur.
Their office staff pitches in with kid duties. "This is not ideal but sometimes a must," Betancourt says.
Meanwhile, Verster says he likes that the kids see their parents as business partners.
"The kids think it's cool that both our names are on the door," he says. "It brightens their day when they come to our office and they see we're working together."
Privacy ranks high among the drawbacks. "Who we date and when they are calling becomes common knowledge. It is not really a problem, but I think we both get too much information," Verster says.
Betancourt has a boyfriend who she says understands her business relationship with her ex-husband. Verster dates several women.
Clients often are perplexed, especially when they learn that Betancourt and Verster formed the business after the divorce. But it hasn't stopped any of them from remaining clients.
"They see us as people who can get past the emotional issues of a divorce and can help them resolve their issues," Verster says.
Cole at Nova has just launched a research project on divorced couples who work together. She thinks it may be easier for them than for married couples.
"I think divorced couples already have been through the wars and know what to avoid and what to concentrate on," Cole says.
Perhaps surprisingly, research shows that most couples in business together remain partners after divorce, particularly when respect and trust remain in tact.
"If the marriage is over and there is nothing to fight about anymore, the business may be in good shape," says Joseph Astrachan, director of the Cox Family Enterprise Center at Kennesaw State University in Kennesaw, Ga.
Matt Zuch and Joan Kristensen are active partners in a New Jersey ad agency they started 16 years ago. Five years ago, they divorced.
The business has hit bumps over the years while the two worked through the slow economy and their bruised emotions. Today, the agency is thriving, with more than 30 clients and billings in excess of $500,000.
Kristensen works in the creative side of the agency. Her ex, Zuch, handles sales, promotions and marketing. Kristensen says having joint finances at stake "motivates both people to be really commited to cause."