BEWARE Buyers and sellers: Wire fraud is rampant !
Buyer and sellers need to be aware of the high incidence of wire fraud in the real estate and loan transaction industry. Here is how the typical scheme goes:
Criminal monitors title company communications for wire instructions and upcoming closings
Criminal creates a false email address very similar to the one the title company's processor/paralegal uses. i.e. johanna@theclosingcompany.net VS. johanna-theclosingcompany@gmx.com
Immediately , prior to closing they send revised wire instructions to the title company wiring seller proceeds or to the buyer sending their cash to close
Title company or buyer initiates a wire to the criminal 's bank account
Here are the best ways buyers and sellers can prevent being the victims of wire fraud :
Sellers should only provide their original, signed and notarized wire instructions in person at the closing office.
Buyers should assume any wire instructions they receive via email are false. If they are received via email, they will need to exercise great caution and due diligence prior to sending funds.
Verify the wire instructions by calling a verified number and obtaining a verbal verification of wiring instructions from the recipient.
Call a trusted and verified number only to verify (think Google search versus phone number on the printed wire instructions)
Check the email address of the person that emailed you the wire instructions for any inconsistencies from initial emails.
Ask for a paper check. Though checks have their own risks, some sellers may feel more comfortable receiving checks.
If in doubt, don't wire. Wait and verify.
The responsibility for fraud prevention falls to all the parties in a real estate transaction: Title companies, buyers, seller, realtors . Everyone.  
Actual recent case study:  Sample fraudulent wire instructions.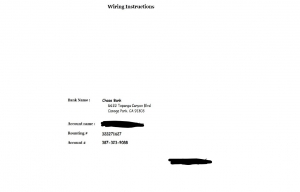 Disclaimer: The Closing Company, Inc. is not a law firm and is not providing legal or tax advice in this post.  For legal advice, please consult with a licensed Attorney. For tax advice, consult with a Certified Public Accountant